𝗜𝗠𝗣𝗢𝗥𝗧𝗔𝗡𝗧 𝗜𝗡𝗙𝗢𝗥𝗠𝗔𝗧𝗜𝗢𝗡 – (especially for Cat Owners)
When something stops the flow of a cat's urine, trouble is coming.
And it comes fast and it is very serious.
The waste products in the urine will start to build up, quickly reaching a point where it begins to poison the body.
This is often is the result when the cat's urethra (the tube that carries the urine from Bladder to Litter Box) gets blocked.
Known in the veterinary world as 'Blocked Cat', this silly named but very serious condition is now being seen with alarming frequency in Vet Clinics worldwide.
Just here at 2Feet4Paws Vet Clinic, we have noticed an increase ourselves in recent years.
It can start out innocuously enough in the beginning, the cat might seem a bit uncomfortable and arrive with a big, hard bladder. However, sometimes the condition has tragically advanced to the point where it is already beyond saving.
Notoriously frustrating & unpredictable to treat, the key to giving your cat every chance to recover (& keeping any bills to a relative minimum) is to get help quickly.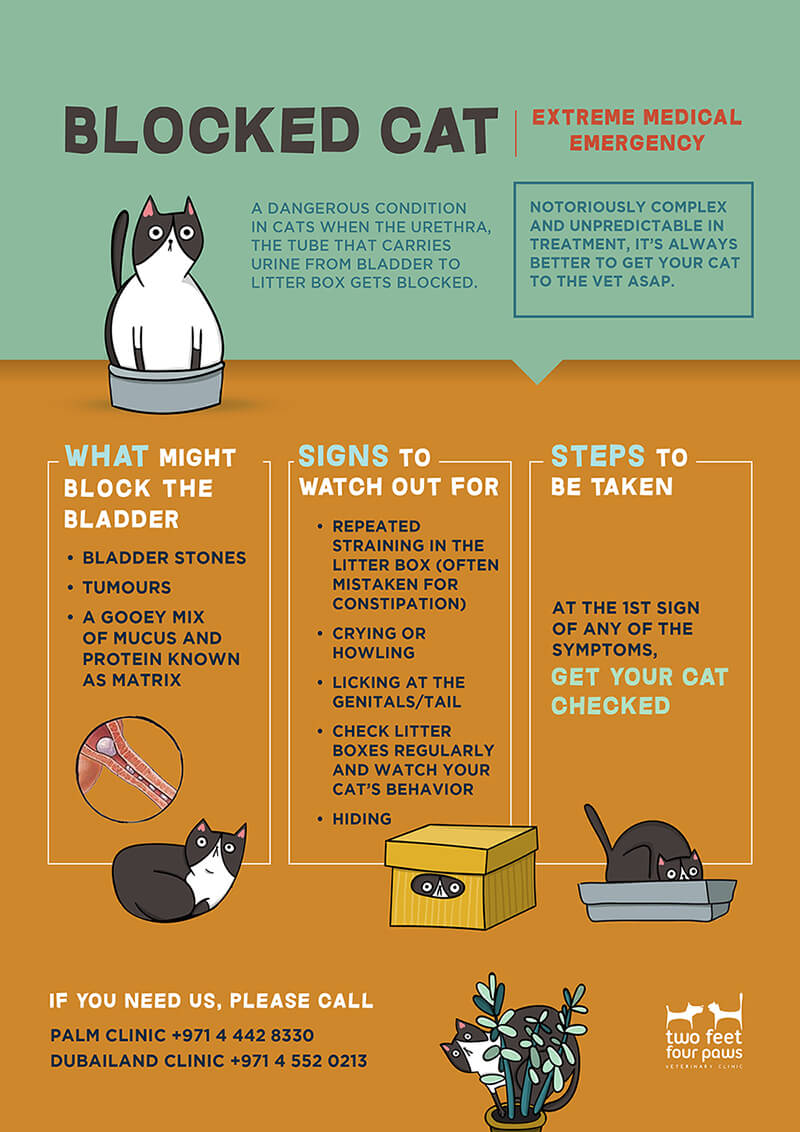 Download and print the Blocked Cat Sheet for more tips and keep a copy on your fridge for easy access.
For more information & to get in touch at the first sign of worry, please contact 2Feet4Paws Veterinary Clinic on 04 552 0213 (Dubailand).